Pool pumps
A better pump makes a better pool
Why Choose Jandy?
Swimming in your pool is enjoyable.
Swimming in costly energy bills is not.
Jandy inground pool pumps are designed with the latest innovations to provide you with cost-saving operation of your pool year after year.
Energy-Efficient Operation
Long-Lasting Durability
Reliable Performance
Easy Installation
Parts of a pool pump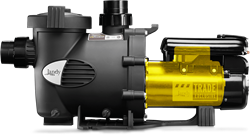 The pool pump motor
Drives the impeller, which moves the water.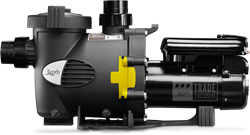 The impeller
Rotating vanes create the flow of water.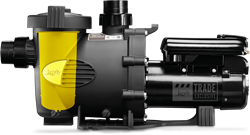 The strainer basket (hair and lint trap)
Acts as a pre-filter for the pump, to strain out debris that might obstruct the impeller.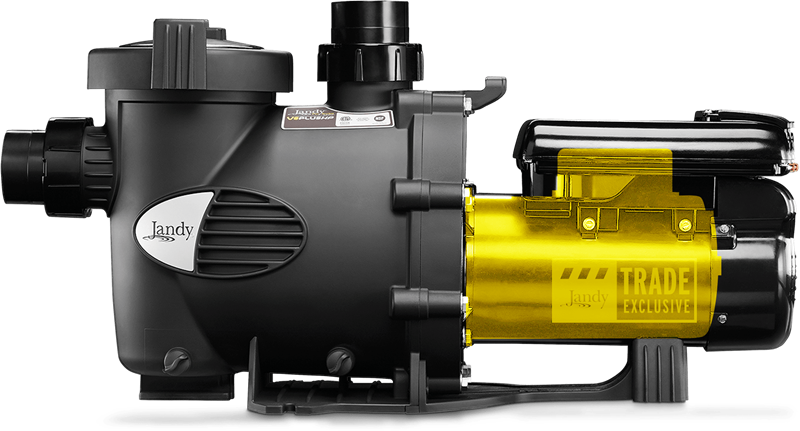 The pool pump motor
Drives the impeller, which moves the water.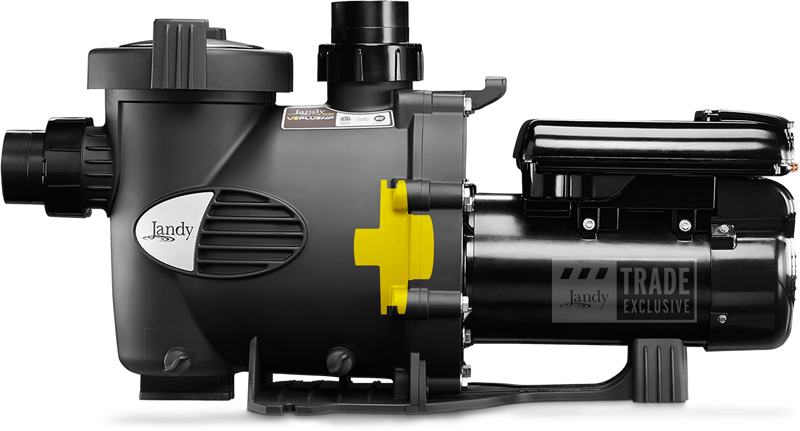 The impeller
Rotating vanes create the flow of water.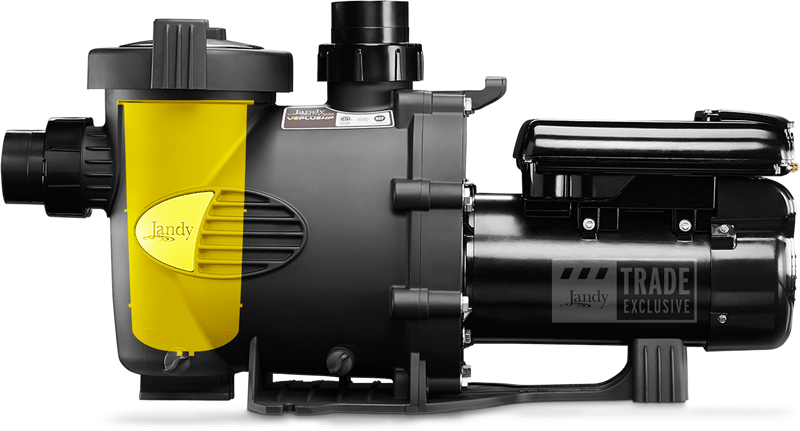 The strainer basket (hair and lint trap)
Acts as a pre-filter for the pump, to strain out debris that might obstruct the impeller.
How it Works
The pool pump's impeller facilitates a pull/push movement of water through the pump and out into the filtration system before sending it back to your pool.
1

Motor speeds ranging from 600 RPM (revolutions per minute) to 3,450 RPM turns the impeller

2

The impeller pulls water from the pool into the pump

3

The water first passes the strainer basket for pre-filtering

4

Water is then pushed out of the pump by the impeller and into the filtration system before it is returned to the pool
Show More
Pick Your Pump
When it comes to purchasing a pool and spa pump for your swimming pool, selecting the right swimming pool pump is best left to a pool professional.
They will help you to find a pool pump that has the power and performance you can rely on.
The ideal inground pool pump for your backyard pool depends on several factors such as
Locate a dealer
Is your pool in-ground or above-ground?
What is the size of your pool filter?
What size plumbing does your pool have?
What is your pool's flow rate?
Do you have any special water features?
How often will you use your pool?
Do you live in an area where electricity is expensive?
THREE TYPES OF POOL PUMPS
Specialty Pool Pumps
Transform your backyard into an oasis with pumps that power water features and waterfalls.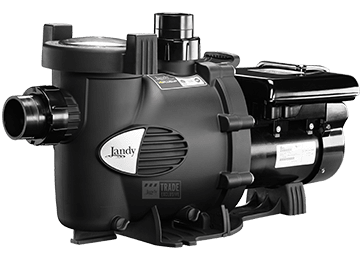 Variable Speed Pool Pumps
If you use your pool year-round, if electricity is expensive where you live, or if you have a large pool, attached spa or decorative water features—a variable-speed pump may be your best bet for cost-saving operation.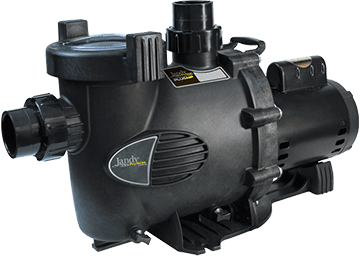 Single & Two-Speed Pool Pumps
Single-speed pumps run at one consistent speed while two-speed pumps can be set to full or half-speed for more cost-effective operation. If you'll only use your pool a few months, a single or two speed pump may be the perfect pump for your pool.
Energy Saving Pool Pumps
Pumps can be one of the most expensive appliances to run in your house, that's why it's important to select the right pump for your usage.
Depending on your pool and your pool usage, an ENERGY STAR certified pool pump can keep the green in your pocket and out of your pool.
---
70%
70% less energy
Pool pumps that earn the ENERGY STAR mark are independently certified to use up to 70% less energy than standard pool pumps, meaning you can save energy, save money and save the environment.
$1,100
Save over $1,100 per year
All Jandy variable-speed pool pumps are ENERGY STAR certified, saving homeowners more than $1,100 per year* over energy consuming single-speed pumps.
Estimate how much you'll save with our energy efficient pool pumps, visit our Pool Pump Savings Calculator.
Find out if you can get government rebates and tax incentives for the purchase of a new ENERGY STAR certified pool pump.
*Based on a VS PlusHP 2.7HP pump on a 28,000 gallon pool with 2 turnovers per day at an average power cost of 0.185/kWh; when tested in accordance with the applicable requirements of 10 CFR 429.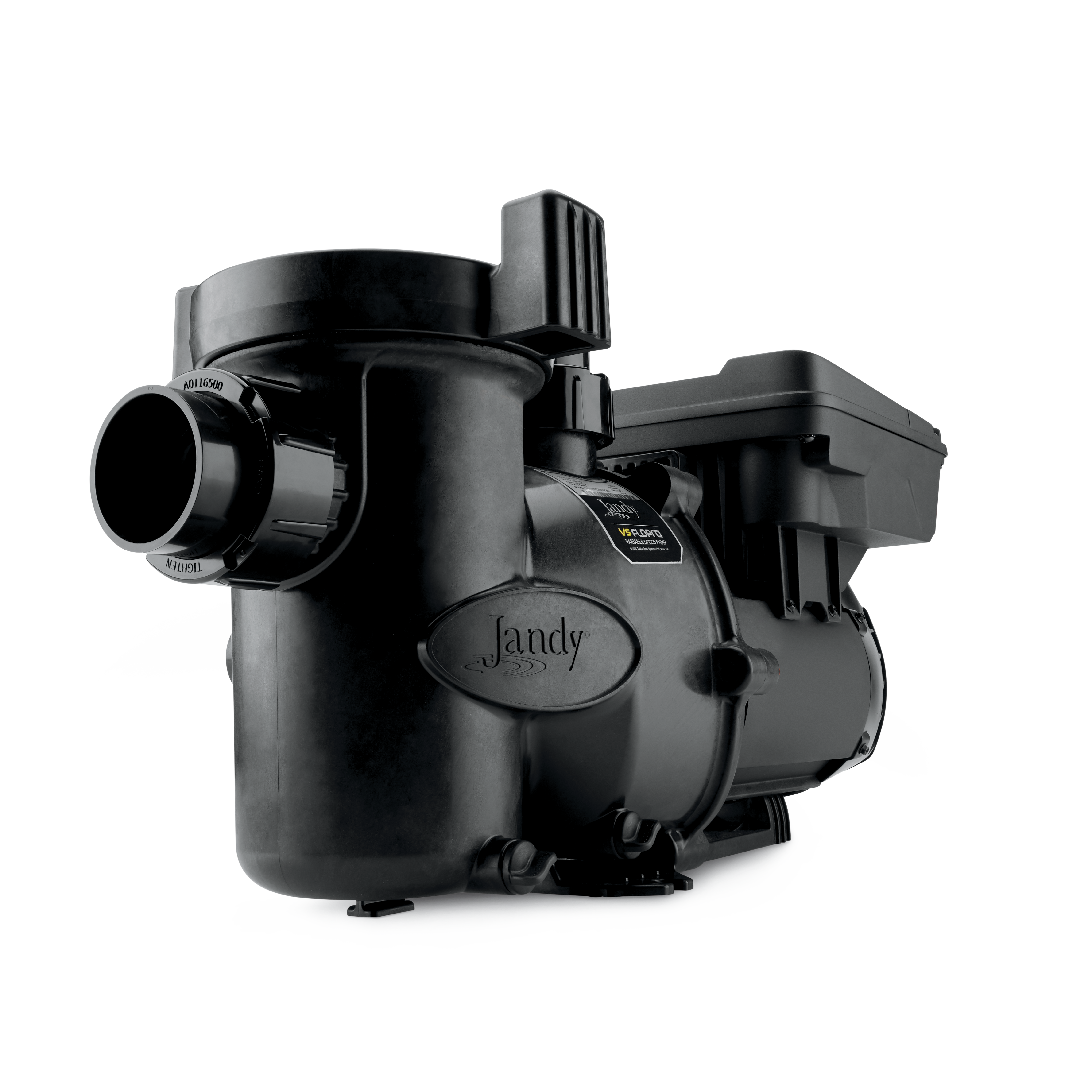 NEW STANDARDS FOR SAVING ENERGY
Starting July 19, 2021, all swimming pool pumps will be required to meet new energy efficiency standards set by the federal Department of Energy (DOE). These new regulations will determine the Weighted Energy Factor (WEF) of a pool pump, which measures in gallons per watt per hour — similar to how you measure a car's efficiency with MPG — a higher WEF means a more efficient pool pump. This replaces the current measurement standard of motor horsepower (HP) which measures RPM.
The good news… Jandy variable-speed pumps already meet the standards. So, if you're looking to purchase a new pump for your swimming pool now, you don't have to wait. Your pool professional will be able to assist you in prescribing the best pool pump for your specific pool.
Learn More
PUMP AUTOMATION
With the iQPUMP01, manage more than just the pump
Adding automation to a new or existing pool pad has never been so simple or so cost-effective. Until now.
App-Based Control
The iQPUMP01 allows for app-based control of 2.2 and 2.7 HP Jandy variable-speed pumps — plus one additional device.
Power-Up the Pump — Plus One
An auxiliary power relay built into the pool pump enables automation of your booster pump or a salt chlorinator like the Jandy® TruClear™. Meaning, you can simply power-up the pump and power-on the additional equipment — all from the palm of your hand.
Convenience
Now there's no need to worry about keeping your pool clean and clear — the ability to automate and schedule a pool cleaner or regulate chlorination levels is readily available — anytime, anywhere from your smart phone using the iAquaLink app.
Smart Servicing
And since the iQPUMP01 can be connected to the web through its built-in WiFi antenna —installers and service techs can remotely program and monitor the pool pad, reducing on-site service visits and increasing energy efficiency for pool owners.